In a hurry? Just for you, an overview of this feature in the Revo-Rama minute! ?
1 minute to see what's new this season at #Futuroscope and the #VR #5D with Sébastien Loeb Racing Xperience? It's possible with the Revo-Rama minute! #VR #VR5D #VirtualReality #HTCVive pic.twitter.com/hIilzpvHpl

— Le Revo-Rama (@LeRevoRama) 13 avril 2018
Family test of the Sébastien Loeb Racing Xperience, Futuroscope's new VR 5D attraction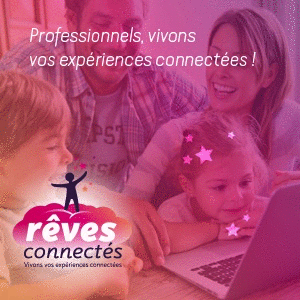 Back to Futuroscope for the first time since the inauguration of The Extraordinary Journey. We were really looking forward to this trip, primarily because we love this park, but also because we were impatient to test the new attraction designed around VR 5D and a driving experience with Sébastien Loeb rally driving legend (not to go into too much detail).
Virtual reality in theme parks is an ongoing discussion. But while the idea seems good on paper, it doesn't really deliver on its promises, not even at Europapark which has put a lot of work into VR. Would Futuroscope be the park to win us over with this new experience? The concept is really good: an investment of 6.5 million euro for an attraction for the general public (starting at 1.2 metres), 108 simulators with VR HTC Vive headsets, with its sensory effects (wind, branches, and dispersed sounds). And as a bonus, a film with a world champion, with some really cool psychedelic moments!
The verdict? Mixed! While this is a welcome new attraction (VR definitely has a place in Futuroscope, and "the 8th continent" was beginning to be technically outdated) there were a few things that let us down. The waiting line was way below par compared to previous productions, the rendering is pixelated (just like on our Playstation VR so no surprise – for the 6K resolution we'll pass), 177 seconds is just too short, the simulator is pretty sluggish (compared to a Vienne Dynamique – which we prefer – for example), and I have some doubts about the attraction's flow, hygiene, headset maintenance (fragility of the audio module in particular) and aging. We fear the same results as for the augmented reality of The Future is Wild (ahead of its time).
The general public will probably be happy enough and it will enable this new technology to be tested by a maximum of people. But for those of us with a VR headset at home, or who have already been on attractions such as Flight of Passage in Animal Kingdom (for sure, it's not the same budget, but the technology is very different) it is more of a problem. I had imagined, that if they were going to use VR headsets, they might as well use a Ubisoft game like Eagle Flight, which is a bit long and with interaction between players. In any case, the mass technology doesn't appear to be quite ready yet and Futuroscope will no doubt have to make several updates to technology and possibly to the film too.
Come on board with us in this video episode of the Revo-Rama for a mad race with Sébastien Loeb!
Don't miss, at Futuroscope: Through Thomas Pesquet's eyes, IllusiO a magical destiny, Drone Academy, and other unmissable attractions like the Extraordinary Journey and the Rabid rabbits…
This was not the only new thing for us. It was also the first time we got to see the film "Through Thomas Pesquet's eyes" on the Kinémax screen: 600 m2 IMAX laser 4K. Thought provoking, interesting, a really nice short film (25 minutes). However, don't go at the end of a long day in the park, you might just fall asleep (or you could do so intentionally for a little rest ;-))
Another newcomer, Bertran Lotth's new magic show "llusiO a magical destiny". Although the show has the same basis as before, I really liked the special effects, in particular the whole introduction. For me it's a must-see if you haven't already seen it.
Our big disappointment? Not getting to do the Drone Academy, a show introducing a fleet of drones. They are at the heart of the new processes used by the parks for impressive shows, and it's really interesting to see. Another time hopefully, when the room is free (press conference ongoing).
We were also glad to have another go on the Flying Theatre: The Extraordinary Journey. We had only done it once and it was a bit short to really have an opinion. And we've since tested other similar attractions such as Soarin Around The World in Walt Disney World's Epcot and Europapark's Voletarium. I've been asked to say which was our favourite, and it's really difficult. Futuroscope stands out from the crowd with a pre-show that I really love (even if effects on the shuttle would have made it better) and a really original film with a dreamlike element. Unfortunately the lines of the different elements are visible on the screen, preventing you from fully immersing yourself in the film. Of course this doesn't stop you from enjoying it, and I was prepared to do it over and again, but it's a pity all the same, and I hope that Futuroscope will provide a budget to improve this attraction.
Finally The Time Machine with the Rabid Rabbits, is excellent as always. Pure craftsmanship from start to finish, making a mockery of Disney's Ratatouille attraction, for a much lower budget. We'd like to see more of this type of attraction (why not using Ubisoft as mentioned earlier) and a second park focusing on video games ?
Come with us on a tour of Futuroscope in this video episode of the Revo-Rama!
So to round up, another excellent day at Futuroscope with the family. I'm well aware that I may put a damper on the Sébastien Loeb VR 5D, put I'm just giving my honest opinion (it's our editorial policy). It happens often enough that once the inauguration period is over, our opinions are shared by the fans and sometimes even taken into consideration by the parks who pride themselves (and not just outwardly) on ensuring their guests' satisfaction, sometimes improving their experiences as a result. Let's wait and see, it's already great to have a new attraction and to enable the general public to discover Virtual Reality.
I have to mention Mr. Dominique Hummel who is leaving his position of President of Futuroscope and who was part of the transformation of the park from images to dreams (travelling through space, flying, magic, shrinking to insect size, driving like a world champion). Well done! He will work on another mission for the Compagnie des Alpes, and so will continue to accompany us in one way or another.
Come back soon for the park's fist roller coaster under the name of Mission Kepler!
So what do you think of Futuroscope's Sébastien Loeb Racing Xperience, attraction VR 5D?
Share the post "The Revo-Rama tests the Sébastien Loeb Racing Xperience, VR5D attraction in Futuroscope (video)"
Podcast: Play in new window | Download