Are you in a hurry? Just for you, a quick overview of this feature with the Revo-Rama minute! ?
1 minute to check out #Shadow by Blade, the PC in the clouds? It's possible with the Revo-Rama minute! #Cloud #CloudComputing #Blade #Frenchtech #Steam #PlanetCoaster pic.twitter.com/dD5wkP6uVf

— Le Revo-Rama (@LeRevoRama) 5 juin 2018
Shadow by Blade: What if our Windows 10 PC could be accessible from anywhere and on any platform?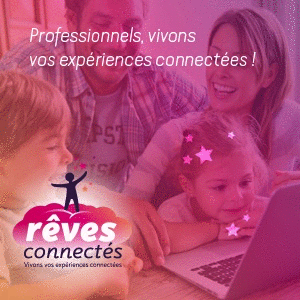 Shadow comes from the idea, often alluded to by editors like Microsoft, to entrust all the power of your machine to the multitude of servers in the cloud. In other words your PC is not really in your home, but in the clouds (with one part shared/mutualised such as the random access memory), you access them through another machine to display and interact with them.
This is how we came to Shadow: as Macintosh users we wanted to play on Steam games like Planet Coaster, Lego Worlds and Transport Fever, which were only compatible on Windows 10. First of all we tried to install Boot Camp which would enable us to have the operating system on our mini mac, but the graphics card of the machine which is powerful enough, was not sufficient for optimal utilisation. Especially as we also wanted to play on our TV as we do with our consoles, as we showed you in the Revo-Rama dedicated to Steam Link.
Yes, we love keeping it simple, and playing on the console means you don't have to worry about the configuration, just put the game in and play (even if in reality this is less and less true…). And, we didn't want to have to spend over 1000 euro for a set up that really worked. Shadow's promise is to have the very best at all times.
Check out our unboxing and installation of Shadow in this video episode of the Revo-Rama!
Shadow by Blade: Play Planet Coaster and Steam from a dedicated box, your macbook or your iPhone? In theory it's possible!
There are several subscription options, with or without the box, with or without commitment, with varying rates. We chose 3 months (for a test) and the external box. In this case, you can rent, we had to pay €154.90 and then €34.95 per month. I get the logic, but it's not very flexible. And what happens if I decide to suspend the subscription (holidays for example), do I have to start over?
The inscription process isn't perfect. You have to wait 5 days for the machine to be deployed, we had expected an automated process like with OVH for example. Another surprising thing was the absence of follow-up with either a waiting list, or follow-up like with ADSL / Fibre offers. In short, we were a bit neglected and the helpdesk wasn't much help (however cool they are).
Once activated, your receive an email and you can connect via the different applications. By the way, I finished installing Windows 10 through my iPhone, before connecting from the box in the house. I wanted to add a Bluetooth dongle (they advise this on their forums) to use my keyboard and my Logitech mouse from my sofa, it wasn't a great idea because I had to ask for a reboot of the machine (this is the weak point if the remote machine doesn't switch off correctly – for a Windows update for example – or if your installation goes wrong, you'll have to use the helpdesk (luckily they respond quickly). So we bought USB extension wires, a keyboard and wired mouse… not perfect but practical.
Apart from that, with our Bouygues Telecom fibre connection we can't complain. Planet Coaster works very well; there is no latency, as though the machine was right here. And we could plug the box into our TV 4K in HDMI (using the cable provided). After the rather complicated configuration (through the NVIDIA software driver), it worked well.
Follow our instructions and how we got to know Shadow on iPhone, Mac and TV in this episode of the Revo-Rama! (Shadow also exists on Android and soon on Linux)
For us it's mission accomplished. We can play Steam games on our TV with the quality of a PC Gamer without spending over €1000.
Besides this, it's interesting because it shows where things are heading. We had already seen that business models were transitioning from purchase towards subscriptions. The PC will undoubtedly follow this rule. We can imagine the implications for small budgets, schools, businesses… because of course we're not just talking about video games, but also desk top applications, audio editing, data processing, etc…
One day our real PC will be in the clouds like all of our software, and apparently this day is already here. You could imagine that it would be the same on a console: a Switch which could develop as quickly as PCs thanks to the cloud. The problem is that optical fibre isn't yet sufficiently deployed and the 4G is still – in many cases – rubbish. When they say that network quality is essential to a country's attractiveness… What's great ("for once") is that Blade is a French start-up.
Note that there is also a NVIDIA GeFORCE NOW offer, on the waiting list, but we haven't tested it yet. I'm surprised that STEAM didn't get involved in that too.
Visit our new Planet Coaster park dedicated to Hallowe'en in this video episode of the Revo-Rama!
Do you want to test it? Here's our referral code: PASDPUB3
So what do you think of Shadow by Blade and the PC in the clouds?
Share the post "The Revo-Rama tests Shadow by Blade, the PC in the clouds. The future of computing? (2/2) (video)"
Podcast: Play in new window | Download